Product Summary of Zynq Ultrascale Board
The system of the Zynq Ultrascale base is the proFPGA motherboard (uno, duo or quad) on which the proFPGA Zynq™ UltraScale+™ ZU19EG and various other FPGA modules can be plugged. On top of the FPGA modules, different interfaces or memory boards can be easily added as well. The ZU19EG FPGA module offers a complete and powerful embedded processing platform for high performance SoC Prototyping, IP verification and early software development.
Equipped with a Xilinx Zynq™ UltraScale+™ ZU19EG FPGA which combines a user FPGA with two ARM Multi Core Processors (Embedded Quad-core ARM® Cortex™-A53 and Dual-core ARM® Cortex™-R5) and on board interfaces like USB UART and SDIO, the board offers a complete embedded processing platform. Further interfaces like USB 3.0, Gigabit Ethernet, Display Port, SATA or CAN can be easily added via the Zynq UltraScale+ Interface Board. In addition it offers already DDR4 memory via SODIMM slot and single QSPI flash memory.
The FPGA module offers a total of 4 extension sites on the top and bottom side with a total of 531 free standard I/Os and 16 high speed serial transceivers for extending the board with standard proFPGA or user specific extension boards or to easily interconnect it to further proFPGA FPGA modules to extend the capacity.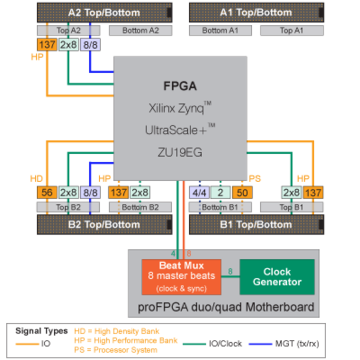 proFPGA Zynq™ UltraScale+™ ZU19EG FPGA Module Specification

FPGA Type

Zynq™ UltraScale+™ ZU19EG (speedgrade 1,2 )

Capacity

6.2 M ASIC gates

Embedded Processor Core

Quad-core ARM® Cortex™-A53 and Dual-core ARM® Cortex™-R5

Interfaces Processor System

On-Board




USB UART interface for debugging




SDIO


External Extension Boards (e.g. via Zynq UltraScale+ Interface Board)




USB 3.0




Gigabit Ethernet




CAN




Display Port




GPIO




I2C




SATA




PMU access

Memories Processor System

DDR4 memory via SO DIMM module




Single Quad SPI Flash Memory

Signaling rate

Up to 1.2 Gbps (standard I/O)/ 12.5 Gbps (MGT)

Extension sites

Up to 5 extension sites with high performance connectors

I/O resources

531 per FPGA module




3 x 153 I/Os (High Denistity Bank) to 2 x top/1 x bottom extension sites




1 x 72 I/Os (High Performance Bank) to top extension site




Single-ended or differential




52 x dedicated I/Os to Processor System

High Speed I/O transceivers

16 per FPGA module




1 x 8 MGTs (up to 12.5 Gb/s) to top extension site A2




1 x 8 MGTs (up to 12.5 Gb/s) to top extension site B2




4 dedicated MGTs to Processor System

Available interface boards

PCIe Gen1/Gen2/Gen3, MIPI, DVI, DDR3/DDR4/Flash/LP DDR4 memory, etc.

Voltage regions

4 individually adjustable voltage regions per FPGA Module




Stepless from 1.2V up 3.3V for HD IOs and 1.0. to 1.8 for HP IOs

Clocking over proFPGA duo/quad Motherboard

8 global clock and sync signal inputs per motherboard




X fully synchronous derived clocks with sync signals

System Requirements

Works only with proFPGA uno, duo or quad motherboard

Configuration

Via Ethernet and USB or PCIe with proFPGA Builder Software

Power

External (optional) ATX Power Supply (12 V, 24 - 35 A output)

Dimensions

5.91" x 0.95" x 5.91" / 150 mm x 24 mm x 150 mm (width x height x depth)




0.25 kg weight

Product article number

PROF119 FM-XCZU19EG-R1

Order code

PROF-FM-XCZU19EG-1/PROF-FM-XCZU19EG-2 (speedgrade 1/2)
產品編號:

PROF-FM-XCZU19EG-1/PROF-FM-XCZU19EG-2 (speedgrade 1/2)